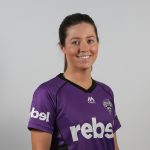 Katelyn Fryett
Katelyn is the 2017 female winner of the Adam Gilchrist Scholarship. She is a right arm fast bowler who plays for the Hobart Hurricanes in the WBBL and Tasmania in the WNCL. Katelyn will pay for Hampshire while she is in the UK.
I started playing cricket at Bracknell Primary School, about 30 minutes from Launceston, when I was 11 with the boys. I played my first game for Tasmania when I was 14 in the U19 Championships in Hobart. 
I have been involved with the Tasmanian Roar since 2009/10 when we entered the T20 National League Competition. One of my favourite cricketing memories was when we got our first win against South Australia at the NTCA ground in Launceston with my friends and family watching. The following season we entered the WNCL. I have been involved with the Hobart Hurricanes for the past two seasons in the Women's Big Bash League. I also play club cricket for University in Hobart. 
I suppose what attracted me to cricket initially was the friends that I made and got to play with along the way. Cricket has given me so many opportunities including travelling around the country.
I am extremely grateful to travel to the U.K. to play cricket with the support of the Adam Gilchrist Scholarship. The scholarship will allow me to make cricket my number one priority during my time in England, which will be extremely helpful for my development. I will be playing with and against some of the best players in the world and with the Women's World Cup in England this year, it will also give me the opportunity to watch some high level cricket.
I have wanted to spend a season in the U.K. for a couple of years now, but have not been able to due to work and study commitments. I think it will prepare me really well for the following summer in Australia as it will allow me to have plenty of good quality games under my belt.
Regards, Katelyn
Jonathon Jones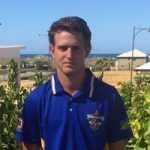 Jonathon is the 2017 male winner of the Adam Gilchrist Scholarship. He is originally from Zimbabwe, but now lives in Two Rocks, just north of Perth, W.A. Jonathon will play in England from mid April until mid September at the Richmond Cricket Club, Greater London, where Adam played. His time in England will stand him in good stead for his return to cricket in Australia.
In the 2016/17 season I've been playing grade cricket for Scarborough Cricket Club but previously I had played all my cricket in Geraldton for the Sportsmans Cricket Club. In my final year at Sportsmans we won both the A grade grand final and the U17s. My highest score of 108 came in U17s in 2015 and my best bowling of 5/5 came in country week last year.
Cricket means the world to me, ever since I can remember I was playing cricket in the backyard with both my brother and dad. Whenever I had a break I would be outside bowling. Going to England is such a huge opportunity for me not to only strengthen and learn about my cricket but equally my life. After my trip to England I wish to come back and use all that I have learned to continue playing and working my way up through grade cricket, striving to hopefully reach my dream of playing at the highest level.
Thanks, Jono
Lachie Bannon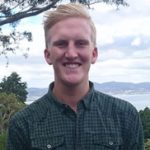 We have also organized to assist Lachie who hails from Tasmania, to play the English season at Harrow St Mary's Cricket Club, Middlesex from April to September. We will supply Lachie with return airfares to the U.K.
I have been playing with my local cricket club, South Hobart Sandy Bay Sharks Cricket Club, located at Queenborough Oval, Sandy Bay, since I first took up the game at age 13 and am now striving to gain consistent 2nd and 1st grade appearances, either there or at another Hobart cricket club. I am a opening seam and swing bowler. I have only recently decided I wanted to take batting more seriously, and through private coaching lessons I have begun to improve on this skill, highlighted by scoring a career high of 75 in Round 1 of the 2016/17 season. My best bowling of late was 6/44 at the start of the 2016 year against the Peninsula School in Victoria.
I hope that travelling to the UK will help me mature, both as a young adult and as a high level grade Cricketer. Hopefully through consistency on field in the UK, I'll gain confidence to bring that form back to the grade cricket scene in Hobart with the aim of  breaking into the 1st grade outfit, that boasts half of the current Tasmanian Sheffield Shield side.
Regards, Lachie