The idea of a club for actors and members of allied professions was the brainchild of a group of cricket-loving actors who habitually watched cricket from the Tavern at Lord's Cricket Ground in London. In 1950 this club was named The Lord's Taverners and registered as a charity dedicated to the promotion of cricket among young people.
The Lord's Taverners Australia was founded in 1982 by John Darling ( a direct descendant of Australia's 10th Test captain, Joe Darling).After some discussion, it was agreed that the new organization would be separate from the parent body with the only official link between the two bodies being a common 12th man – HRH Prince Phillip.
So today,The Lord's Taverners Australia is a Federated autonomous organisation with branches in all States and Territories and approximately 3000 members. These members come from all walks of life, with media, the professions, the arts, entertainment and business communities being well represented. What we have in common is a love of sport generally, a love of cricket in particular, but most importantly a desire to raise money to support disadvantaged and/or handicapped young people.
Learn more about the Lord's Taverners Northern NSW
DONATIONS:
We have a special relationship with GiveNow, which is an initiative of the Our Community Foundation, a not-for-profit organisation established through the financial support of Westpac. If you would like to consider making a donation to Lord's Taverners Northern NSW Inc., please click on the button below.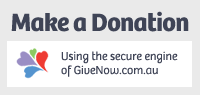 Lord's Taverners are proudly sponsored and supported by-
 

 
UPCOMING EVENTS:
Our next function is the Narrabri Sports Awards Night at the Narrabri R.S.L Club on Saturday 26th September 2015 starting at 6.30 for 7.00 p.m.
For full information email our Narrabri Captain, Kath Hamilton at buick@northnet.com.au. You would be made most welcome if you want to attend.